Why Top Tier Hotels Are Choosing Engineered Wood Floors Over Solid Wood
Filed under: Blog
Comments: Comments Off on Why Top Tier Hotels Are Choosing Engineered Wood Floors Over Solid Wood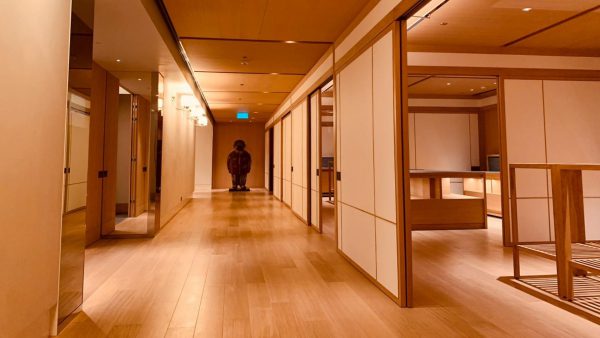 Goodwood Park Hotel and the Ritz Carlton are among the hotels that have opted for engineered wood.
Engineered wood is fast becoming the flooring of choice for many hotels. In Singapore, several premium hotels have chosen engineered wood as flooring for their guest rooms and function halls. For example, we worked with Ritz Carlton, One Farrer Hotel and Spa, and Goodwood Park Hotel – hospitality properties focused on luxury, wellness and heritage respectively – to provide engineered wood flooring that met their needs.
We break down the rationale behind hotels favouring engineered wood.
Highly sustainable
One reason why hotels opt for engineered wood is because of its sustainability. Engineered wood maximises the harvested timber, as it only forms the topmost 4mm to 6mm layer of the engineered wood planks. This means that less timber is required as compared to solid wood, which has a thickness of around 15mm to 20mm.
Using engineered wood can hence help hotels to fulfil the criteria for attaining the Building and Construction Authority's Green Mark certification. The scheme evaluates each building's environmental impact and performance.
Sustainability was a priority for all three hotels, informing their choice of flooring. They have since received the certification; One Farrer Hotel and Spa was conferred with the Platinum certification, which is the highest possible tier of recognition.
Plentiful options for customisation
Another reason for engineered wood's popularity is its ease of customisation. As it is processed in a factory, a wide range of colours and textures can be introduced to produce unique and attractive looks. For instance, wire-brushed, distressed and sawn-cut textures differentiate wood surfaces from the usual smooth finishes and can enhance the aesthetic and experience of the floor.
While all three hotels selected white oak, each customised the flooring to vastly different effects:
One Farrer Hotel and Spa opted for its flooring to have an aged rustic appearance, and chose two shades for its suites – one a rich chocolate brown, the other a lighter hue – which were achieved through oiled finishes.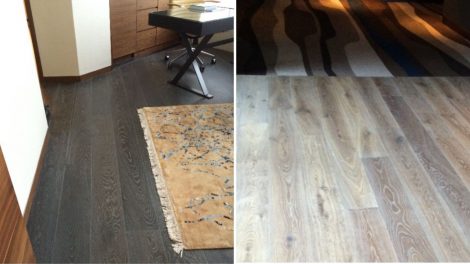 Goodwood Park Hotel selected a light tan, and a smoked oak aesthetic. The panels were installed in a herringbone pattern.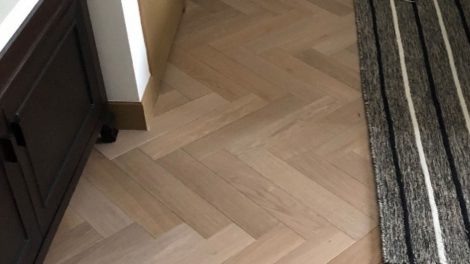 The Ritz Carlton meanwhile opted for rift and quarter oak, which beautifully displays the timber's vertical grain, in a natural shade for its function hall.
In addition, engineered wood flooring offers more flexibility when it comes to plank dimensions. Engineered wood is better able to maintain its dimensional stability compared to solid wood, and can afford wider widths without having to increase the thickness of its planks.
Robust stability of engineered wood planks
Engineered wood is manufactured such that multiple layers of plywood (our products utilise the highest quality birch) support the topmost layer of solid wood. This composition allows for each plank to be more stable as compared to solid wood, meaning that it will react less to changes in the temperature and environment.
Whether your room is hot or cold, there will be minimal chances of engineered wood expanding and contracting, and leaving gaps in the flooring.
Hardier coating due to UV curing
Around seven layers of protective coating are typically applied to engineered wood in the factory, and each one is cured with ultraviolet rays. This results in longer lasting durability for the coating, and hence a decreased susceptibility to scuffs, stains and damage for the wood flooring. This is especially useful for hotels and other commercial properties which see high foot traffic.
In contrast, solid wood usually has around three layers of protective coating, which is applied by hand onsite and left to dry.
No downtime required
As all sanding and coating of engineered wood is done in the factory, no further processing is needed after installation. Whereas for solid wood, a minimum of 14 days is required to allow the wood to acclimatise at the site after installation, following which sanding and coating is carried out.
Conclusion
Engineered wood provides multiple benefits for hotels and commercial buildings with its customisability, durable coating, stable structure and sustainability. The lack of downtime post-installation is another bonus.
Engineered wood can also be a suitable option for homeowners who prefer a unique look or particular dimensions for their wood panels.
Intrigued? Find out more about our engineered wood products or contact us with any questions using the website's chat button.